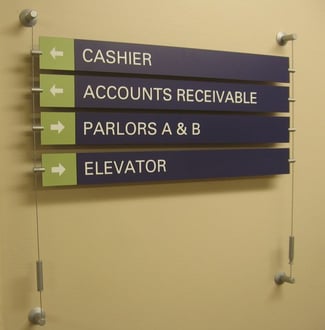 Visiting your building should be as easy as possible for your clients and customers. You can guide them smoothly with directional and wayfinding signs. When space planners are designing the layout of a new location, wayfinding markers should be a key consideration. Thankfully, The Sign Center is here to help with wayfinding signs for space planners in North Jersey.
What Do Space Planners Do?
Professional space planners are in charge of assessing an organization's space requirements and mapping out the best configurations for improving workflow within a building. Companies usually hire a space planner to assess an existing building for suitability for their enterprise or to find a new space. They generally have experience in the industry in addition to a degree in engineering, business, or design.
Space planners are given the job of coming up with blueprints and schematics for investors and employers to help them visualize how a prospective property can be used by a business. Their recommendations often feature specifics, like outlets and electrical wiring, furniture layout, signage, phone locations, lighting, and more.
Wayfinding Solutions for Space Planners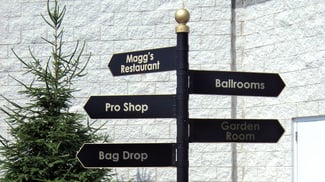 As mentioned above, one of the responsibilities of a space planner is determining the wayfinding and directional signage needs for a building. Fortunately, as part of our consultations, The Sign Center also offers this service. As space planner evaluate new places, we are a perfect resource. We usually recommend the following types of wayfinding and directional signs for space planners in North Jersey:
Informational – This can include anything from the hours of operation displayed on the front door of your facility using vinyl window lettering to post and panel site signs letting the public know about construction. Informational signs serve as a real life "frequently asked questions" answers section.
Identification - From the monument signs visitors first see as they approach the parking lot for your venue to office signs announcing each of the rooms in your unit, identification signs are important for helping clients find where they need to go. In addition, identification signs are often the first exposure consumers may have to a brand.
Regulatory – Guests need to know the requirements and regulations for an area. Regulatory signs can give them this information. Traffic control signs denoting speed limits, where to park, and stop signs are all considered regulatory and so are markers required by the Americans with Disabilities Act (ADA).
Directional – These are the signs most people think of when they envision wayfinding signage. Directional signs guide the way to the location. They are often "hidden" in plain sight. They are meant to be easy to find for those in need of guidance. There are a variety of ways to do this with standalone and wall-mounted directories, wall graphics, blade signs, and much more.
These are just some of the wayfinding signs we offer. As you relocate, you can count on The Sign Center to help you evaluate your signage needs. Contact our friendly experts today for a free consultation and quote if you are a space planner in need of help with signage.