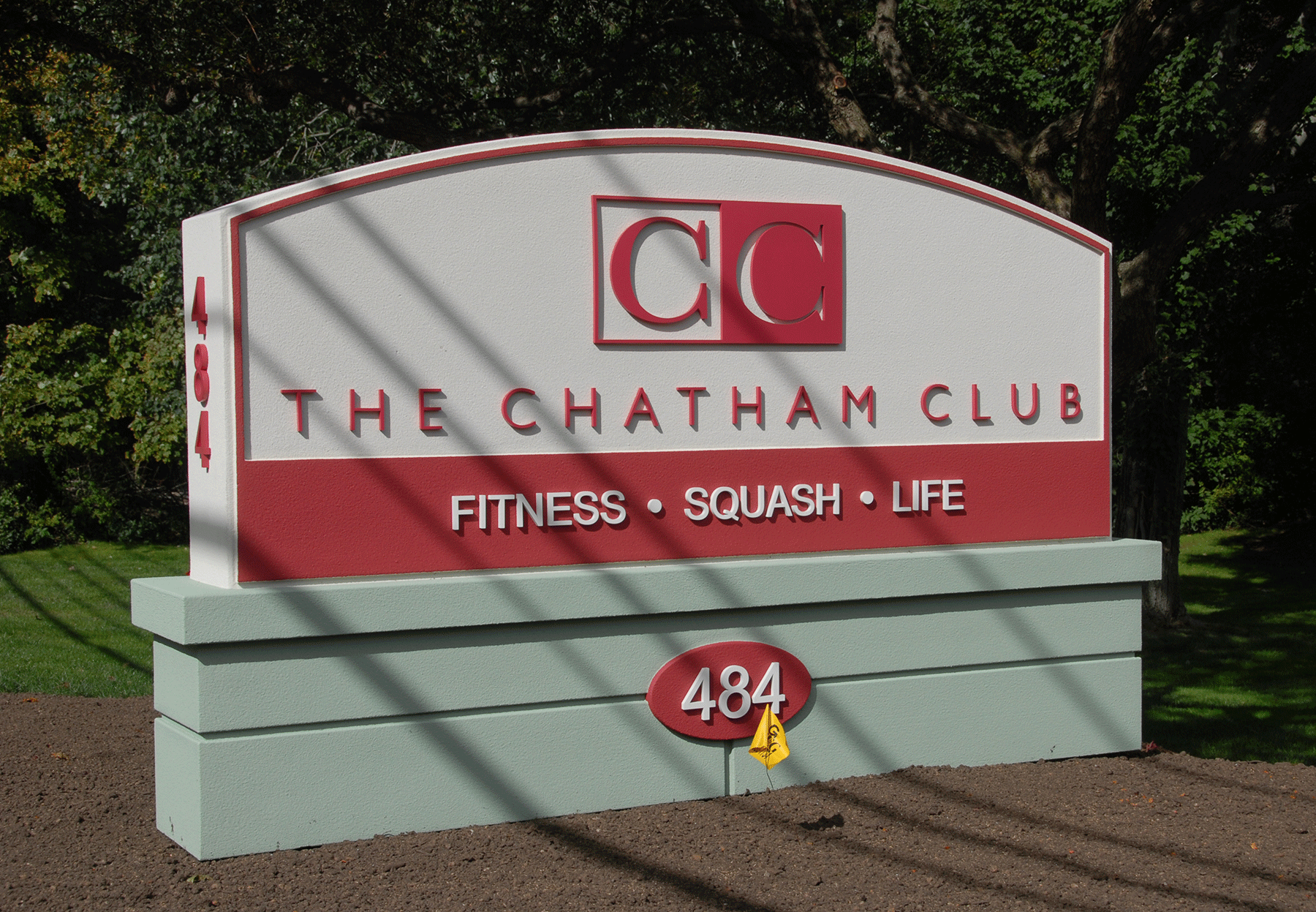 The Chatham Club has turned to the Sign Center to create the new entrance signage for this well-established squash club and fitness center. The monument sign the club chose makes it easy for guests, members and new visitors to quickly find and locate the club, while also standing up to the weather so it will look good for the long run.

Squash Enthusiasts Build a Home
In 1976, a group of squash fans from New Jersey broke ground on a new clubhouse, creating a space for people to come and play squash, learn about the game and enjoy the community of fellow squash players. The initial facility included six courts, locker rooms, a sauna and a baby-sitting service so parents could enjoy their favorite game.

As the years went own, the Chatham Club has grown and expanded along with its members, adding gym equipment, a spinning room, a Pilates facility and more to meet the needs of the community. Through the years, the Chatham Club has remained committed to providing service to the community both through their mission as a sports club and through contributions to local service organizations.

Entrances with Presence
The new monument sign the Chatham Club chose for their entrance signage establishes a strong presence for the Chatham Club both for returning members and new visitors alike.

Monument signs have a heft and permanence to them making them ideal for entrances to office parks, shopping centers and places like the Chatham Club that sit off of the main road. These signs are large without becoming overly obtrusive or obnoxious.

They also project a certain dignity through their style and simplicity. Locations like the Chatham Club do not need a sign with blinking lights or bright colors. They need a sign to match their history, mission and long-standing connection to the community. Monument signs meet this goal.

Endurance: Signs and Organizations
Another reason monument signs make a great choice for institutions like the Chatham Club is because the signs are crated to hold up against time and the elements, just like the Chatham Club brand.

After more than 35 years of service to the community, the Chatham Club has established its brand within the community. It needs a sign that can continue to serve the club through the years. Monument signs are built with weather resistant materials and come with a five year guarantee against the weather, which can erode materials, paint and reduce the overall quality of a sign.

Let your entrance signage speak volumes about your organization by choosing a monument sign. The Chatham Club's new entrance sign will continue to serve the club and community for years to come.
Read More