Wall Graphics
Wall wraps... add a mural to your office and expand your communications with your clients...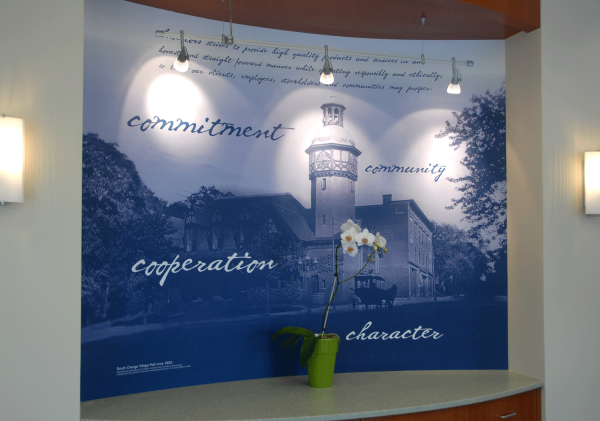 Nonverbal communication makes up 93 percent of all communication. In fact, when compared to text, we process visuals 60,000 times faster. When words alone are not sufficient, The Sign Center can help your company design visual messages. We have many different types of vinyl that work well on rough textured surfaces both inside and out.
These days, wall graphics are found everywhere. Organizations are using wall graphics to leverage the branding potential of their walls. Even private residences are using vinyl graphics. This kind of signage has grown in popularity for a couple of reasons. Wall murals create a relaxing or professional environment depending on your needs. Plus, they have superior marketing abilities. Fortunately, you have found the leader in creating wall graphics for North Jersey businesses.
Wall Graphics Can Incorporate Any Images and Text
Using dedicated promotional images, slogans, mottos, and logos, we can create eye catching digitally printed vinyl wallpaper. With our cutting edge large format printer, we print high resolution text and images directly to heavy duty adhesive vinyl. We install the graphics on your schedule to avoid any disruption to your retail space, office, or restaurant.
We can even help you if you do not have any images, logos, or an idea of what you would like on your walls. Our graphic designers can create the ideal design for your business. We engage you in an in-depth consultation about your vision, goals, and budget before we start the design process. In addition, we always get your final approval of a proof before we print it out.
Who Benefits from Wall Graphics?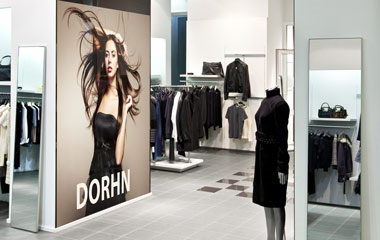 Nothing beats wall murals and digitally printed wallpaper when it comes to making your walls stand out. The potential is seemingly limitless. We commonly see wall graphics used for the following purposes:
Restaurants – Some of our biggest clients are restaurants. You can change the environment of your restaurant to match your cuisine. For instance, a diner might include images from the 1950s to take people back in time.
Conference Rooms – We can create designs for your conference rooms based on your company type, whether you have an accounting, legal, architectural, financial services, or general contractor firm.
Nonprofits – We can display your mission statement in lively colors on the wall for all to view. You can include your graphics to get your community message across.
Office Environments – Custom designs can highlight sales territories or global offices. Or, wall murals and wall graphics can add a classy flair to the walls and interior offices of professional buildings.
Medical and Dental Reception Areas – Many patients are stressed out as they sit in a medical office waiting room. You can ease their anxiety and lighten the mood with the right wall graphics.
And many others!
Areas We Serve
All of North Jersey is in The Sign Center's service area. From our headquarters in Berkeley Heights, New Jersey, we maintain, install, fabricate, and design signs in Wachung, Plainfield, New Providence, Stirling, Millington, and every place in between. Contact us today for a free consultation and quote on wall graphics.
With over 40 years of creating branding and marketing programs for some of the leading local, regional, and national businesses allows us to create and execute outstanding signage that will help your business grow.