Property Managment Signage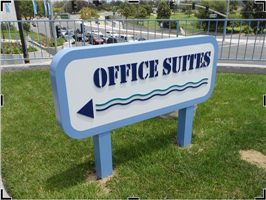 Managing your property becomes effective and simple once you find the right signage combination. There are signs you must have for basic wayfinding and safety whether you run a strip mall with an array of storefronts, an apartment complex with adjacent parking lot, or an office building with several suites. Whatever your needs may be, The Sign Center has the experience to design, fabricate, and install top quality property management signs.
Interior Property Management Signs
Property management signs are crucial both inside and outside of your building. Here are some of the more common interior signs:
Exterior Property Management Signs
Exterior signs are a must for helping clients find their way around your property. Some of the more popular exterior signs are
Monument Signs – Placed near the entry of your parking lot, monument signs are what people notice. If you allow storefronts to put up their own channel letter signs, this type of marker is especially important. The monument sign lets you announce the businesses that are renting space while identifying the property.
Parking Signs – These are great, and often required, for identifying handicapped spots, fire lanes, and patient parking. You can post no parking signs in spots where emergency vehicles need to go in addition to posting speed limits.
Channel Letter Signs – When most people think of building signs, they think of channel letters. On the side of the façade, you can advertise your property's name with channel letter signs. To make your office building easier to find, it is a smart idea to put your address in illuminated channel letters. You may also want to allow tenants to put their own channel letter signs over their storefronts.
The options are virtually endless with property management signs. The Sign Center is able to customize all of your signage to including your company's logo, name, and colors. This is a must for building brand awareness.
Areas We Serve
The Sign Center proudly serves the Stirling, Wachung, Berkeley Heights, Millington, New Providence, and Plainfield communities along with the rest of North Jersey. Contact us today for a free consultation and quote and get started on your sign order.
With over 40 years of creating branding and marketing programs for some of the leading local, regional, and national businesses allows us to create and execute outstanding signage that will help your business grow.