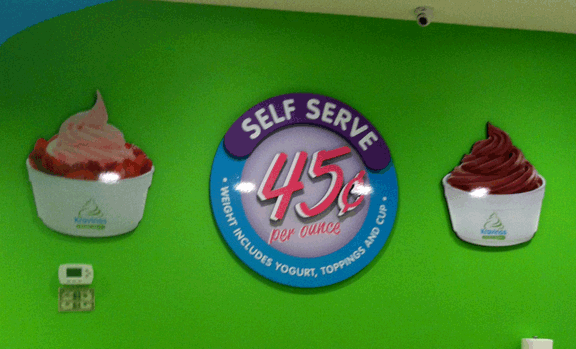 POP or point of sale
signage is a critical but sometimes overlooked part of the retail experience. Maybe you've done a good job branding your message in advertisements and created external signs to let customers know where to find you, but if you're lacking POP signs, you might be missing out of the opportunity to "close the sale" with customers in your store.
What makes POP or point of sale so important? These are the kinds of signs that prompt a customer to make a purchase when they're already in your store and even near the register or checkout. It's that little reminder that influences an impulse purchase or reminder to pick up something they had forgotten about.
Most importantly, POP signage helps drive home brand awareness. Whether you're trying to call attention to specials, sales or just to your brand, internal and external point of sale signs are what often seal the deal.
If you can think of a leading retailer, they are almost certainly using POP displays. Some examples include Dunkin Donuts, McDonald's or FedEx
Office
. You might think restaurants and retailers like these don't need it but POP signage is driving home specific and branding messages to consumers who might not realize the specific offers are available.
So what are some of the best options available to you in POP and point of sale signage?
Dimensional Displays
- You don't just want to slap a logo on a sign and then hope for the best. You want to stand out from the crowd, and one way to do that is to get a dimensional sign or display. Dimensional letters and signs add a value to your business, make your logo and brand more eye-catching and will drive traffic to your business.
Often times dimensional displays also work great for
trade shows and events
away from your store or office. In a room full of companies trying to get noticed, you want your displays to be the most attractive, most clean and to be the most clear at branding your message.
Dimensional signs can be designed in a wide variety of materials, including metal, acrylic, PVC, flush mounted or stud mounted. Depending on what style you choose, the message you convey might be different, so make sure you
work with a company
that understands what will work best for your message.
Banner Stands
- If you want to make it easy to transport your POP from store to store or trade show to trade show, maybe you want to invest in a banner stand, specifically a
pop-up stand
. A quality stand allows you to replace and remove graphics easily depending on where you're placing it, includes strong casing that's lightweight and easy to move and comes with a carry bag to make transportation a breeze. A
spider banner stand
isn't as scary as it sounds, it's an extremely light and movable version of the pop-up stand that makes life easy and lets you display your brand message wherever you are.
Banners
- Sponsoring an event in town or opening a new location? A
digitally-printed or vinyl banner
is an essential tool in driving home branding as well as messaging. Whatever the occasion, make sure that your message is clear, easy-to-read and movable based on what is happening in real-time. A quality banner stands the test of time and, assuming it's not time-specific, can be re-used with minimal wear and tear shown.
There is more to POP but now you know the essentials. It's easy to forget about adding the final piece of the signage puzzle but it's a step we promise you don't want to overlook.
Read More