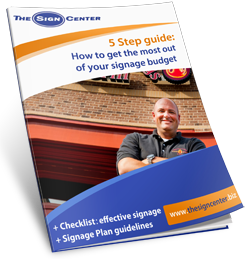 When it comes to getting the most out of your signage budget, all the steps in our guide are important. But perhaps the number one step you can take to maximize your budget, develop useful signs and build long term brand consistence is to develop a partnership with a reputable sign company.

Too often, businesses look at their vendors as simply suppliers. You order a product. The vendor delivers it. Done. This may work for your office supplies, but leaves something to be desired for your signage. A partnership means you work together to achieve success.

Let's explore how to get the most out of this valuable partnership. You can also see the ebook for more information or to start building a partnership with The Sign Center.

Trend Setters and Thought Leaders
A thought leaders is someone you turn to for the latest ideas in an industry. It's someone who keeps up with the latest news and ideas in a specific industry. The sign company you choose should be a thought leader in the sign industry.

As you choose a partner, ask about the industry.
Read More