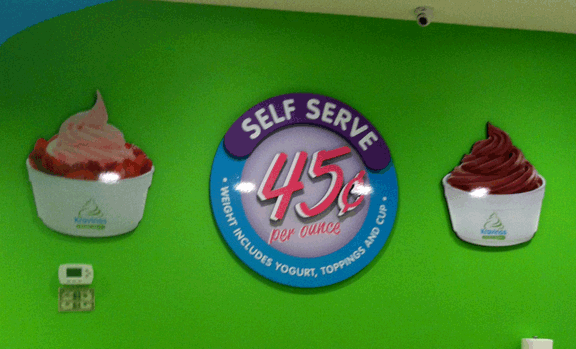 Point of purchase signage, also called POP, is one of the leading marketing tools that any retail seller can utilize. It is paramount to maximize this marketing medium to boost traffic and revenue. It makes sense to advertise right where customers are and point of purchase signs do just that.
The main advantages of using signs are:
An affordable way that gives a quick return on the investment.
POP signs add an increase in ascetics of the store.
By directing customers to their needs and showing promotions, sales increase.
An affordable way to increase impulse buying.
Branding is easily accomplished on-site in a cost-effective way.
Higher margin products can receive increased attention with point of purchase signage. Using color and graphics on signs and displaying them near products that are higher cost will draw customers to those areas. This increases their exposure and leads to more sales. An impulse buy is much easier to accomplish using the signage as a marketing technique.
Retail signage, besides increasing impulse purchases, also establishes brand awareness. Creative and effective store signs will brand a store, even if it is not part of a franchise or big chain. It is more important in a small business to develop brand awareness that does not have the advantage of nationwide recognition. One of the simplest and inexpensive ways is through point of purchase signage. Consulting with a firm that provides these signs is a good first step in taking advantage of these advertising benefits.
Reasons to use POP signage are:
Boosts storefront traffic as displays increase walk-ins.
Signs with eye-catching designs will attract traffic.
To draw attention to sales and specials to increase revenue.
Longevity because point of purchase displays last long and can be re-used for long periods of time.
Retail signs are an invaluable tool not to be overlooked. So much is concentrated today on technology that the tried and true methods are often forgotten. Marketing and branding as well as catching and holding a customer's attention, in a cost-effective way, make point of purchase signage an absolute in retail stores. Consult with a signage company that is knowledgeable in this area that can advise on the best colors and graphics. Plan advertising campaigns, sales and specials with the company so the signage needed is ready for display at the proper times. Having a handle on a simple marketing campaign integrating POP signs will lead to higher traffic, more impulse buying, increased brand awareness, and increased sales. Make durable, flexible, well-designed signage a part of the campaign and see immediate results.
Read More